Understanding the FLSA Labor Law Poster Rules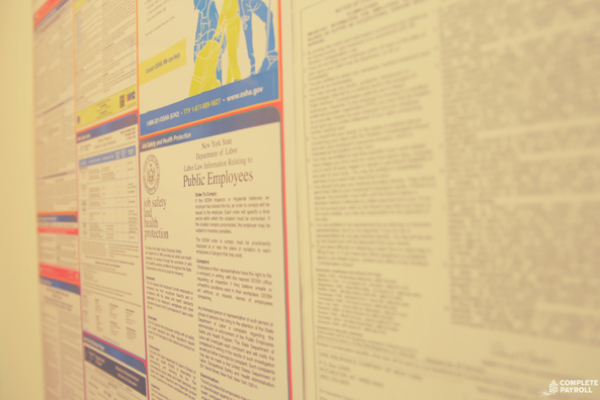 According to the U.S. Department of Labor, every private, federal, state and local government employer employing any employee subject to the Fair Labor Standards Act has to display a poster on minimum wage rules. Fortunately, the DOL is making it easy by providing a wide range of options and presenting versions in a variety of languages and sizes, in both black and white and color. The posters are downloadable in PDF format.

Key Provisions
The key announcement in the poster is the federal minimum wage: $7.25 per hour. Other provisions noted are:
Overtime rules: 1.5 times the regular rate for all hours worked over 40.
Child labor rules: These are extensive. Among the key provisions are that an employee must be at least 16 to work most nonfarm jobs and at least 18 to work in jobs classified as hazardous. Youths 14 and 15 may work limited hours in certain kinds of positions only.
Tipped employees: Employers may pay "tipped" employers (such as waiters) a minimum wage of $2.13 an hour, but the wages plus tips must equal the standard $7.25 per hour.
Other Provisions
The poster also lists in detail the enforcement provisions: the DOL can recover back wages through administrative or court action, and there may be criminal action as well. Employers in violation of the law "may be assessed civil money penalties of up to $1,100 for each willful or repeated violation of the minimum wage or overtime pay provisions of the law and up to $11,000 for each employee who is the subject of a violation of the Act's child labor provisions." It gets worse if death or serious injury is involved.
The poster also states that companies cannot discharge or otherwise retaliate against workers "who file a complaint or participate in any proceeding under the Act."
Exceptions and Conditions
Of course, there are exceptions and conditions, which are mentioned in the poster. Also, employers should note that certain states and localities have additional rules, such as minimum wages above the federal rate. In Massachusetts, for example, many retail businesses have to pay time-and-a-half for Sunday work, even if the employee hasn't reached the 40-hour threshold. The poster is an important requirement, but does not pretend to encompass all the laws and regulations that may affect wages. Because regulations can change, employers should periodically check the DOL site for updates. If a substantial number of employees speak a language other than English, you may be required to provide bilingual posters.